2014 News Archive
2007 archive
2008 archive
2009 archive
2010 archive
2011 archive
2012 archive
2013 archive
2014 archive (you are here)
View latest news
March 2014
It's always great to see our monstrous friends at Monsterpalooza! Lugosis and Karloffs and Chaneys . . . oh my! Plus all the great make-up. This is a great meet-up. Kevin Sean Michaels will be at the Hollywood Book And Poster table in the main ballroom.
| Mar. 28 - 30 | Meet Kevin Sean Michaels at Monsterpalooza in Burbank, California |
| --- | --- |
| What: | A celebration of the art of monsters. |
| When: | Friday, March 28 through Sunday, March 30, 2014 |
| Where: | Marriott Burbank Airport Hotel, 2500 Hollywood Way, Burbank, CA 91505. Kevin Sean Michaels will be at the Hollywood Book and Poster table. |
| More info. | Official Monsterpalooza website. |
Join Kevin and guests director Joe Dante, actor Dick Miller and the cast of Return of the Living Dead for Hollywood Horrorfest in Hollywood. This panel is a free event!
Over the years there has been an explosion of indie horror film festivals. And while that's always great news, after the awards have been handed out, many filmmakers are left wondering what to do next. Too often many acclaimed, award winning features and shorts remain unsold and undistributed. The industry has changed dramatically over the last few years and Hollywood Horrorfest 2014 reflects that change.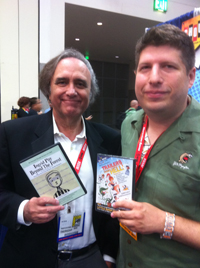 The big question is, how do you actually make any money from all your hard work? Hollywood Horrorfest 2014 is gathering some of the best and most knowledgeable names in the indie horror industry to help answer your questions. They'll also have representatives at hand from many current independent distribution companies, plus sales reps and PR companies with valuable tips on how to market your work. Whether you've made a short or feature, they'll have panels that can help with financing, writing, casting, PR, festivals, selling and distributing.
It's a festival like no other! Everything you've always wanted to know about Indie Genre filmmaking but were afraid to ask . . . and much more! But since there are panels, please don't be afraid to ask, we don't bite . . . much. See you there if you're a horror fanatic.
| Mar. 29 | Panel at Hollywood Horrorfest |
| --- | --- |
| What: | Kevin Sean Michaels and other special guests on panel: How to Finance, Produce, Sell & Distribute Your Indie Horror |
| When: | Saturday, March 29, 2014, 4:40 PM - 7:00 PM |
| Where: | New Beverly Cinema, 7165 Beverly Blvd., Los Angeles, CA 90036 |
| More info. | listing on Hollywood Horrorfest website, New Beverly Cinema website |
2007 archive
2008 archive
2009 archive
2010 archive
2011 archive
2012 archive
2013 archive (you are here)
View latest news